Contact Us (Mt E Branch)
Contact No : 6733 5188
Operating Hour:
| | | |
| --- | --- | --- |
| Monday, Wednesday, Thursday | – | 9AM – 5PM |
| Tuesday & Friday | – | 9AM – 7PM |
| Saturday, Sunday & Public Holiday | – | Close |
Cataracts
Cataracts is the clouding of the lens in the eyes, which usually happen as you age. If you notice a progressive drop in the quality of your vision, you should make an appointment to have your eyes checked.
Our Specialist Services
Located in the heart of Orchard Road, Eye Care Clinic has been providing comprehensive eye test and treatments since 1993. Coupled with many years' of specialists' experience and modern diagnostics technology, our doctors offer a full range eye service to diagnose and treat eye diseases.
Welcome to Eye Care Clinic
Eye Care Clinic was founded in 1993 by Mt Elizabeth Consultant Ophthalmologist Dr Tony Ho to provide modern and quality private specialist eye care for Singaporeans and foreign patients from the region and around the world.
Staying true to its mission of "Eye Care For You", the clinic's medical professionals and staffs, together with its modern technologies, strives to deliver quality treatment with precision to all its patients.

Total Eye Care – Our Forte
Full eye medical examination
Cataract surgery
Laser vision correction
Childhood myopia control
Glaucoma screening and management
Presbyopia or Farsightedness surgery
Surgery for retinal detachment and retinal tears
Diabetic eye disease management
Childhood squint surgery
Cataracts Surgery @ Eye Care Clinic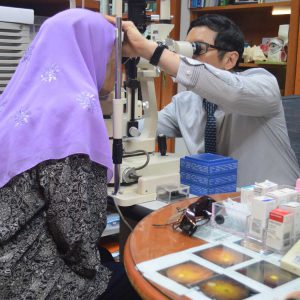 What is Cataract?
A cataract is a clouding or opacification of the normally clear crystalline lens of the eye. Most cataracts develop as part of the normal ageing process. The age at which cataract develop varies from person to person. While some may start developing cataracts in their forties, most do so only in their sixties to seventies.
Symptoms of Cataract
Blurring of vision
Glare, particularly at night
Frequent eyeglass prescription change
Decrease in color intensity
Yellowing of images
And in rare cases, double vision
Our Locations
Eye Care Clinic Bishan
Blk 501 Bishan Street 11 #01-376
Singapore 570501
Tel: 6352 6888 Fax: 6733 6266
Opening Hours:
Monday – 9-11am
Wednesday – 9-11am
Thursday – 2-4pm
Saturday – Please call to book an appointment
Eye Care Clinic Bukit Batok
Blk 280 Bt. Batok East Ave 3
#01-331
Singapore 650280
Tel: 6560 0777 Fax: 6896 0060
Opening Hours:
Tuesday – 2-4pm
Thursday – 9-11am
Saturday – Please call to book an appointment
Eye Care Clinic Pte Ltd
3 Mt. Elizabeth Suite #03-08
Mt. Elizabeth Medical Centre
Singapore 228510
Tel: 6733 5188 Fax: 6733 6266
Opening Hours:
Monday – Friday 9 am to 5.15 pm
Saturday 9 am to 1 pm
Closed on Sundays and public holidays